About Spantrack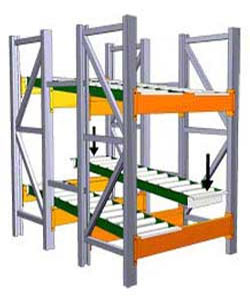 Spantrack is a fairly new and very innovative product line. Similar to pallet flow rails Spantrack can be used to transform your existing static pallet racking into a dynamic storage system. Spantrack differs from pallet flow rail in that it is typically used for cases, boxes or cartons. Spantrack is available in several widths, lengths and capacities so you are sure to find a configuration that will work for your specific needs.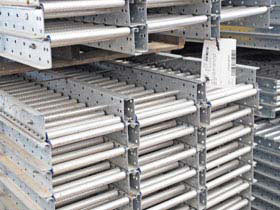 Spantrack is usually found in 9", 12" and 18" widths, with other sizes being custom made as needed. If you purchase spantrack, be sure to also remember the hangers which will be needed to mount the spantrack to the pallet rack beams.
UsedRack.com is the distributor of new & used spantrack & case flow conveyor for Minneapolis, Minnesota and its surrounding area. In business since 1979, UsedRack.com stocks all major brands of spantrack including: Unex - Rhino - SJF Material Handling - Unarco and more.
Call 612-238-4780 to talk to one of our friendly pallet rack sales staff
Examples of Spantrack Systems
Spantrack Web Links
Below, you'll find a selection of the best spantrack links on the web.