About Push Back Racks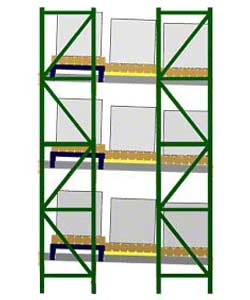 Push Back Racks are a great product that will enable you to have a dense, dynamic storage system for your palletized goods. Pushback racking is loaded from the front by pushing pallets toward the back. When product is removed, the next pallet in line will 'flow' forward on rails. The pallets themselves rest on trays which ride on tracks and nest with one another. Push Back racking is a very good option when you have many pallets of material that don't need to be rotated very often. Push back and drive in rack are also similar in terms of concept (dense storage) however push back rack rack offers easier retrieval of pallets because the pallets automatically come to the front of the rack system. The main difference between pallet a pallet flow rail system and a push back rack system is that with pallet flow, you can store pallets much more deeply than with pushback.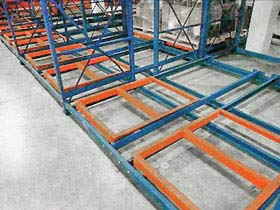 One other difference that sets pushback and drive in apart is the amount of SKUs that you are able to store with each system. Given an identical footprint, height & pallet position count, the pushback rack will be able to store more SKUs than the Drive In Rack. This is because within a pushback system, you can have a SKU for each pick face. In a drive in rack, you would only typically have a different SKU in each bay.
UsedRack.com is the distributor of new & used push-back racks and dynamic pallet storage systems for Minneapolis, Minnesota and its surrounding area. In business since 1979, UsedRack.com stocks all major brands of push back racks including: Interlake - Mecalux - Steelking - Unarco - Frazier - Konstant - Ridg-u-Rak - SJF Material Handling and more.

Pro Tip!
"Before you consider adding levels to your rack with upright extensions, make sure your upright is rated to safely handle another level."
~ Jason Deiter
Examples of Pushback Rack Systems
Push Back Rack Web Links
Below, you'll find a selection of the best push back links on the web.