About Carton Flow Racks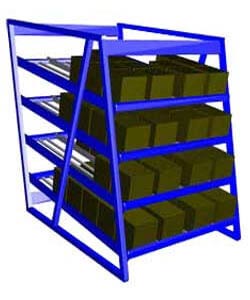 Heavy Duty Carton Flow Racks are an excellent industrial storage solution for any business where storage applications require handling a lot of inventory that rotates on a fairly regular basis. Gravity flow racking allows you to keep all your individual products (cases and cartons) separate yet still easily accessible to your employees.
This type of gravity flow shelving uses guided guard rails to create product flow lanes by way of gravity rollers inside flow rack shelf beds. This keeps the product organized in pick lanes and keeps it moving forward by way of gravity flow rollers or span track. As one product is picked from the front of the rack, another slides forward into its place. The rack is kept stocked from the back where another worker can slide the individual packages into pick trays held inside a rack structure.
Gravity conveyor is sometimes used with pallet and carton flow systems to stage picking totes. Carton flow provides a medium to high density storage system for today's warehouses when designed accordingly to maximize rack capacity within the storage system.
Product is kept separate by using roller tracks and guide rails to keep the product in straight roller lanes. This assures that products are always in their proper places and allows for efficient use of time, as employees come to remember where each product is located.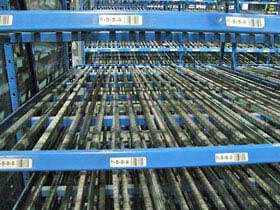 In distribution centers, carton flow racks are most often found within the larger structure of a complete pick module. A pick module is used to 'pick' orders for shipment. Many times, several employees will be stationed in a pick module and have access to several sections.
These sections of carton pick shelving often use span track roller conveyor tracks or gravity skate wheel roller conveyor/track strips to create lanes of roller track, each supporting individual product lanes. The employees then pick the products requested and place them in a pick tote. These picking totes are then placed on a center power conveyor which takes them to the next station in the distribution process - typically packaging.
UsedRack.com is the distributor of new & used carton flow rack and carton flow racks, shelves, roller tracks, guides and other carton flow equipment for Minneapolis, Minnesota and its surrounding area. In business since 1979, UsedRack.com stocks all major brands of carton flow components including: Interlake - SJF Material Handling - Kingway - Keneco - Hytrol - Unarco - Quick-Pik - DinaLager and more.

Pro Tip!
"Loads placed on cantilever rack arms should never exceed the length of the arm."
~ SJF Sales
Examples of Carton Flow Rack Systems
Carton Flow Rack Web Links
Below, you'll find a selection of the best carton flow rack links on the web.