Used Lumber & Cantilever Racks For Sale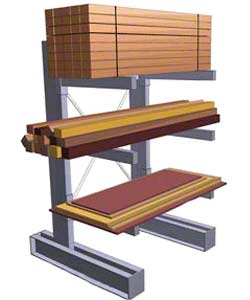 Cantilever Racks (sometimes called pipe racks or lumber racks) offer fast and convenient handling of long, unwieldy stock including plywood, steel plate & pipe, PVC, furniture and more. The advantage of cantilever racks is a racking system that provides the user instant access to anything from one piece to a full load of material.
Cantilever racks and cantilever racking based systems, when used correctly, can be instrumental in creating a neat and orderly inventory system where previously none existed. The heavy-duty steel construction permits storage of pipes, tubes, steel stock and other long product(s) that must be kept raised off the floor.
In addition to providing support, the bases of the cantilever uprights can also be used for additional storage levels. Forklifts can easily load items onto and off of the arms. By purchasing additional cantilever rack uprights, cantilever racking arms, and/or brace sets you can easily add onto any of the existing cantilever rack systems we offer for sale.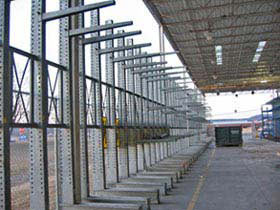 Usedrack.com is Minnesota's distributor of new & used cantilever racks, cantilever racking systems, parts and components. In business since 1979, UsedRack.com stocks all major brands of cantilever racks offered for sale including: Lodi - Interlake - Speedrack - Frazier - Meco - Palmer Shile - Unarco - Steel King.

Pro Tip!
"Pallet flow rails can be used with your existing racks to create a simple dynamic pallet storage system."
~ SJF Sales
Example Photos of Cantilever Rack Systems - Lumber Racks - Bar/Pipe Storage
Cantilever Rack Web Links
Below, you'll find a selection of the best cantilever rack links on the web.